Neighborhood Information
Neighborhoods in Boston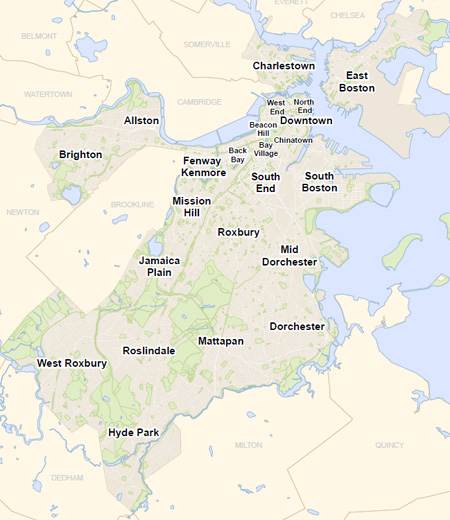 Back Bay

Gas lanterns, brick sidewalks and tree-lined streets characterize this historic riverfront neighborhood. Grand townhouses from the Victorian era have been converted into charming condominium homes. Buyers gravitate to this area for homes characterized by antique woodwork detail, fireplaces and large living spaces. The residential feel is complemented by Newbury Street, which is home to internationally acclaimed fashion boutiques, art galleries, fine dining, cafés and unique shops. The Back Bay is considered one of the most preferred residential areas in Boston and offers housing that is generally moderately expensive to high end.

The Fenway

The Fenway is home to the Boston Red Sox, the Museum of Fine Arts, Symphony Hall, and many colleges and universities. The charming neighborhood streets are nestled along Frederic Law Olmstead's historic "Emerald Necklace," a beautifully landscaped antique park system that surrounds the entire area. Residents choose The Fenway for its medium sized apartment-style living characterized by art deco brick buildings, hardwood floors and large windows. The area is home to young professionals and students alike and offers affordable housing choices that are a short walk to all that Boston has to offer.

South End

Primarily a residential area, the South End is listed with the National Historic Register for its blocks of elegant Victorian row houses. The urban parks, upscale restaurants, and art galleries make this neighborhood one of the most popular places to live in Boston. The South End is truly diverse with a residential mix made up of families, young professionals, and artists. The beautiful townhouses that characterize this neighborhood offer residents housing that is mid-priced to high end.

Beacon Hill

Decorative ironwork, brick sidewalks, cobblestone streets, gas lanterns and hidden gardens characterize this Boston neighborhood. Historic colonial row houses enclosed in a cozy enclave give many residents the feeling of living in a village. Charles Street, the neighborhood's main street, is filled with antique shops, upscale restaurants, and unique shops. A short walk from the financial district and bordered by the Boston Common and Public Garden, this urban setting offers residents high-end housing.

The Waterfront

The rediscovered Boston Waterfront will soon be reunited with the rest of the city when the Central Artery, or "Big Dig," is completed. Barges and tankers, as well as sailboats and historic vessels, create a feeling of oceanfront living while in an urban setting. Residents enjoy many types of housing, from unique loft-style condos to apartment-style antique brick buildings to converted wharf buildings with views of the harbor. This wide selection of housing offers choices to renters and buyers of every price range.

Winchster

The Town of Winchester, originally a colonial village, has become a thriving residential community noted for its fine public school system, beautiful homes, and its convenient location just eight miles from Boston. Winchester's development into an affluent suburban community began in the late 1800's as wealthy businessmen from Boston moved away from the city to build substantial homes. Today, the character of the town is defined by its beautiful homes and the exceptional civic spirit of its residents.

Everett

A significant contributor to the economic well being of the Commonwealth of Massachusetts, Everett is a blue-collar working class community that is home to a diversified industrial and commercial base. Bordering Boston on the Mystic River, the city is conveniently located near interstate highways, has 60 miles of public roads, and is serviced by the MBTA. Although Everett is a densely populated city, it is able to provide a high level of education, public safety, public works, and recreational services to its citizens.

Roslindale

A spectacular view of the Boston skyline, moderately priced homes, and its location just ten minutes outside Boston are just a few of Roslindale's appealing characteristics. While the homes are charming and unpretentious, the town's neighborhoods are similar to those of Boston in style, layout, and availability. Many new residents have been delighted at the success of improvements on older homes.

Malden

Located just five miles north of Boston, the city of Malden boasts a diverse and active business community. Housing is comprised of single or multiple family homes, and several multi-family residential complexes. Malden is recognized for its immense collection of fine Victorian era homes, and its community has a strong commitment to education and close-knit neighborhoods.
Rentals & Sales Contact Form